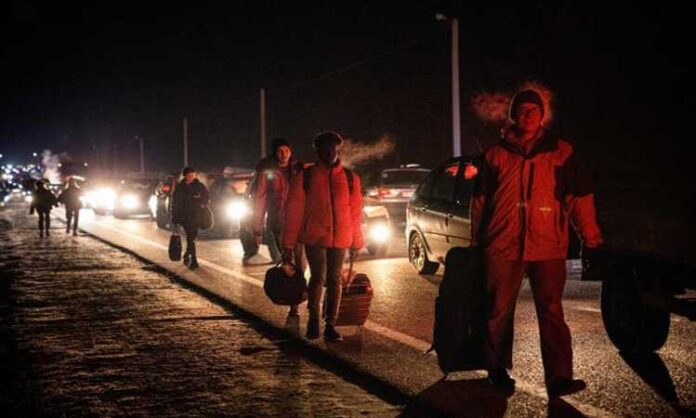 Russian soldiers advanced on Kyiv in the early hours of Saturday, although it was unclear how far the invading troops had advanced inside the Ukrainian capital, where President Volodymyr Zelenskyy had sworn defiance all night.
"We must survive this night," Zelenskyy declared in a video message before daybreak arrived in Kyiv, after telling Ukrainians that Russia had designated him as "target No. 1."
As the weekend began, Zelenskyy tweeted that he had begun "a new day on the diplomatic battlefield" with a discussion with French President Emmanuel Macron, and that "guns and equipment from our friends" were on their way.
However, the threat to the former Soviet republic was far from done. Ukrainian civilians gathered in subterranean bomb shelters or attempting to evacuate their nation to safety, bringing family members and any goods they could. Kyiv authorities recounted street clashes and asked citizens to seek cover.
On Saturday morning, US President Joe Biden was scheduled to meet with his national security team; the US and other countries have put sanctions on Russia and its president, Vladimir Putin, in the hopes that the economic cost will drive Russia to change its course.
As the sun rose above Kyiv, it was unclear how far the army had progressed. Small Russian battalions were probing Ukrainian fortifications to create a route for the larger forces, according to skirmishes reported on the outskirts of the city.
However, the forces' quick departure after less than three days of action jeopardised a country clinging to freedom in the face of a sweeping Russian attack that threatened to overthrow the democratic government and throw the post-Cold War world order into disarray.
The street brawls came after violence that destroyed bridges, schools, and apartment complexes, killing hundreds of people.
Delta has terminated its codeshare agreements with Aeroflot, the Russian state airline, with immediate effect. A codeshare agreement allows one airline to sell tickets on other carriers' routes.
"We have withdrawn our code from Aeroflot-operated services beyond Moscow's Sheremetyevo Airport," Delta said in a statement. "We have also removed Aeroflot's code from Delta-operated services from Los Angeles and New York-JFK."
Because of the prospect of mass arrests, the US Department of State issued an early Saturday warning to Americans in Russia to "avoid protests and any demonstration-related activity."
"The United States Embassy reminds U.S. citizens that the Department of State's Travel Advisory level for Russia is "Level 4: Do Not Travel" for a variety of reasons, including harassment of U.S. citizens, harassment by Russian government security officials, and arbitrary enforcement of local law," according to the statement.
Early Saturday morning, Ukrainian President Volodymyr Zelenskyy tweeted that he and French President Emmanuel Macron had spoken on the phone. "A discussion with @EmmanuelMacron kicked off a fresh day on the diplomatic battlefield. Our partners' weapons and equipment are on their way to Ukraine. The anti-war coalition is gaining traction!" Zelenskyy sent out a tweet.