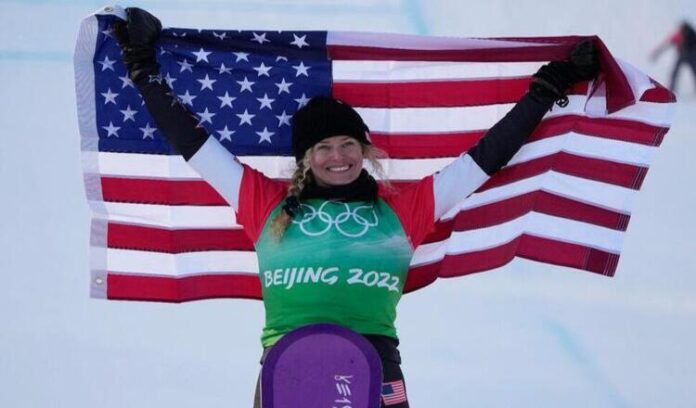 (AP) — ZHANGJIAKOU, China — Lindsey Jacobellis won the first gold medal for the United States at the Beijing Olympics on Wednesday, riding hard to the finish line in the snowboardcross final 16 years after a mistake lost her the crown.
The 36-year-old racer was racing in her sixth Olympics and was the first American to earn a medal in what has been a disappointing Games for the red, white, and blue.
The triumph came just hours after the top American competitor, skier Mikaela Shiffrin, skied out and failed to complete the opening run of the slalom, giving her a 0-2 record in Beijing.
Jacobellis rewrites a few noteworthy entries in the Winter Olympics history books with his victory. She became the oldest American woman to earn a gold medal, and her 16-year gap between medals was the greatest for any American woman.
Jacobellis was most known before Wednesday for taking a large lead into the last jump at the 2006 Turin Games, but then collapsing and settling for silver after tugging on her board in a showboat maneuver as she rode over the crest.
She rode hard all the way to the finish line this time, defeating France's Chloe Trespeuch. As she slowed, she covered her heart with her hands. She received one of the prized Bing Dwen Dwen stuffed animals at the post-race ceremony, hoisted it above her head, and simply stood there beaming. Canada's Meryeta O'Dine took bronze.
"They may talk about it as much as they want," Jacobellis stated. "Because it helped mould me into the person I am today." It kept me hungry and motivated to compete in this sport."
It was unexpected that Jacobellis would win the first gold medal in the United States, rather than Shriffin or someone else from the action park, such as slopestylers Jamie Anderson or Red Gerard. Jacobellis' return to the winner's circle after all these years came as no surprise.
Long after the humiliation and disappointment of her "Lindsey Leap" in 2006, Jacobellis continued to ride and win. She has 45 World Cup podiums to her credit since 2007, including 23 golds, and two third-place results prior to the Games.
"It feels great since the level at which all the women are riding now is so much higher than it was 16 years ago," Jacobellis explained.
Nonetheless, her Olympic silver medal achievement has followed her, and she has generally avoided the limelight. Jacobellis remained back during a media event with all of the snowboardcross riders last week to focus on racing, according to her coach.
While Shaun White and Chloe Kim can't take two steps without being spotted at this snowboard park, Jacobellis walked alone with a member of the US staff a few hours before her final. Nobody seemed to notice.
It's possible that the return ride down the hill will be more packed.
When asked what lesson she would offer to younger racers regarding past transgressions, she answered, "It doesn't define you." "You're a winner, especially if you've made it thus far." Also, consider what you've learnt from the event and how you may use it later in life."