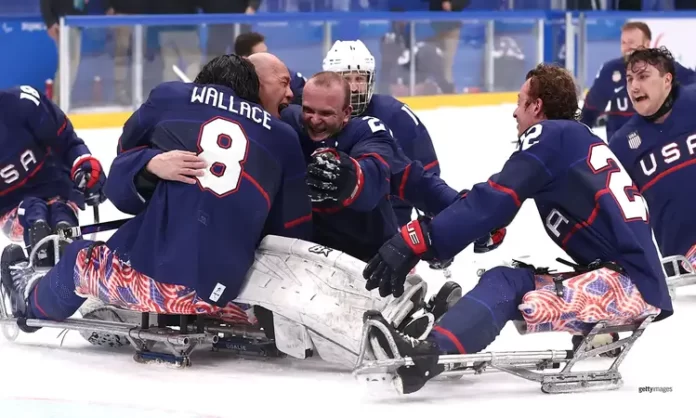 BEIJING  — With Team USA's 5-0 triumph over Canada at the National Indoor Stadium on Sunday, U.S. captain Josh Pauls became the first sled hockey player to win four career Paralympic gold medals at the age of 29. The defenseman's career spanned 14 seasons and four Paralympic Winter Games, with gold medal celebrations at centre ice at each.
Pauls concluded the Paralympic Winter Games Beijing 2022 with nine points, tying with teammate Jack Wallace for the most by a defenseman, and took over the lead for most Paralympic games played by an American in the team's second preliminary-round game against South Korea. Pauls has appeared in 18 games, breaking Joe Howard's previous high of 16 games.
"They say it's lonely at the top," Pauls added, "so I'm delighted I've got my brothers with me." "It's fantastic, especially considering how this team has fought and evolved over the last four years." It's difficult to put into words what it's like to have spent most of your career with these individuals."
Pauls was born without tibia bones and had both legs amputated at the age of ten months while growing up in New Jersey. He aspired to be the first NHL goaltender to be born without legs. He joined the local New York Rangers sled hockey club in 2002 after a few years and some persuasion from his parents. He went to Lindenwood University in St. Louis, where he played for the Disabled Athletes Sports Association's Blues for many years.
He has come a long way since his Paralympic debut at the 2010 Paralympic Winter Games in Vancouver, where he was the youngest member of the United States' gold-winning team at the age of 17. He's now a four-time Paralympic and five-time world champion, as well as an account executive in finance.
He's evolved into a selfless leader off the ice, constantly looking at the larger picture in life, keeping things light in the locker room, and encouraging his teammates to join him for media interviews so they can share the spotlight.
"Not just on a hockey level, but on a human level, we care so much about each other," Pauls said. "It's about falling in love with the guy next to you." For example, I know Declan (Farmer) has my best interests at heart, and I have his. To be honest, we've never had a tighter team in any of the Paralympics I've attended. Our coaches and captains declared right away during our medal ceremony, "We're not putting these medals on ourselves; we're putting these on the folks next to us."
Farmer, the 24-year-old alternative captain, echoed same sentiments and lauded Pauls' leadership during the previous Paralympic season.
Farmer described Josh as a "excellent communicator." "He's been our captain since the PyeongChang Olympics, and he's just become better as a leader each year." He always says the correct things at the right time and also leads by example. He has the ability to delegate to others and is the ideal leader."
Josh is a "great communicator," according to Farmer. "He's been our captain since the PyeongChang Olympics, and he's only gotten better as a leader each year," she says. "He always says the right things at the right moment, and he also leads by example." He is the ideal leader since he can delegate to others."