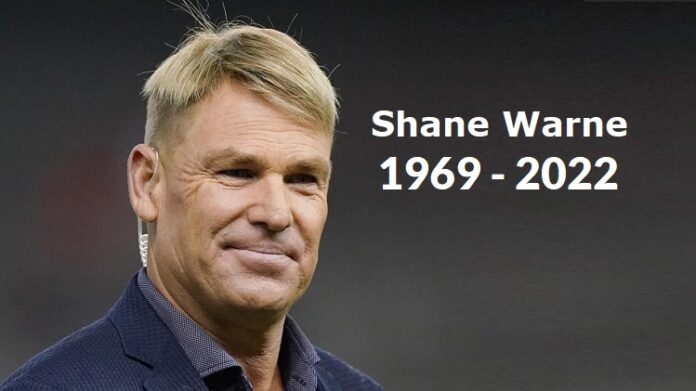 Shane Warne, a famous personality in international cricket, has played 145 Tests for Australia since his debut in 1992, taking 708 wickets with his leg-spin. Warne took 293 wickets in 194 ODI outings.
Shane Warne, an Australian cricket hero who was a member of five Ashes-winning teams throughout his career and helped his country win the World Cup in 1999, died on Friday at the age of 52.
Warne's management issued a statement stating that he died of a suspected heart attack in his villa in Koh Samui, Thailand.
"Shane was found unresponsive in his villa and despite the best efforts of medical staff, he could not be revived." the statement added. "The family requests privacy at this time and will provide further details in due course."
Until Muttiah Muralitharan of Sri Lanka shattered the record for most wickets taken by any bowler in test cricket, the leg spinner had 708 wickets to his name.
Warne was named one of the five Wisden Cricketers of the Century by a panel of cricket experts in 2000, the only specialist bowler among the five.
Warne became a well-known commentator for Sky Sports, ESPN, Channel 9, Fox Sports, and India's Disney-owned Star TV after retiring as a player.
Warne made his test debut for Australia against India in 1992, and following a 5-0 series triumph over England, he played his final test against England in 2007. He also grabbed 293 wickets in one-day international cricket over his lengthy and illustrious career. In certain one-day internationals, he also led Australia. He was part of Australia's World Cup-winning squad in 1999.
Warne has represented domestic cricket in Australia for his native state of Victoria, as well as domestic cricket in England for Hampshire, where he was captain for three seasons between 2005 and 2007. After Australia's 5-0 Ashes series triumph over England in January 2007, he retired from international cricket.
We may ignore the length of his career, his wickets, and his records. Test cricket has been under threat for many years because of the way he ignited the game. It's a game that demands talent, but it's also a game that requires characters to support it.
When I think of Test cricket, Shane Warne is without a doubt one of the first names that springs to mind, and he is one of the key reasons why I wanted to achieve some of the same heights that he accomplished.