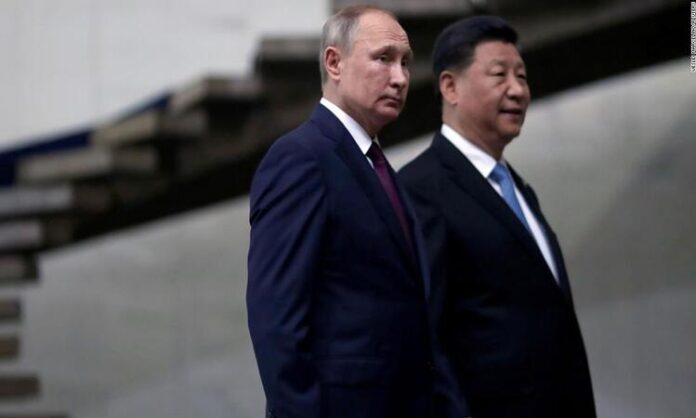 Chinese authorities have endeavoured to portray a supposedly impartial stance on the Ukraine conflict in public pronouncements and at international summits, neither denouncing Russian activities nor ruling out the possibility of Beijing acting as a mediator in a peace effort.
While Beijing's foreign messaging has left many in the dark about its true objectives, much of its internal media coverage of Russia's invasion paints a quite different picture. For China's 1.4 billion people, an alternate reality is unfolding in which the invasion is nothing more than a "special military operation," according to CCTV, the US may be funding a biological weapons programme in Ukraine, and Russian President Vladimir Putin is a victim standing up for a beleaguered Russia.
Major state-run news outlets, which dominate China's heavily restricted media sector, have primarily echoed Russian state media reports or information from Russian authorities in order to present that storey.
During the first eight days of Russia's invasion, roughly 5,000 social media posts from 14 Chinese official media sources were placed onto China's Twitter-like platform, Weibo, according to a CNN investigation. According to the analysis, nearly half of the top 300 most-shared postings about the events in Ukraine — each of which was shared more than 1,000 times — were classed as definitely pro-Russian by CNN, with information credited to a Russian official or straight from Russia's state media.
The study may not be typical of all postings posted by official media outlets on Weibo because it concentrated on stories that received the most attention on social media. However, it gives a glimpse of state-produced information that is most visible to the popular platform's more than half a billion monthly visitors.
It's unclear to what extent these posts are the result of a coordinated propaganda campaign between the two countries, but they follow a pattern in which Russian and Chinese media have amplified and reinforced their often-interchangeable talking points on issues like the treatment of Russian dissidents, Hong Kong pro-democracy protests, the origins of the Covid-19 pandemic, or the alleged American role in fomenting "colour revolutions."
Mutual reinforcement has also spilled over into the extensive overseas and English-language propaganda operations that both countries have built to promote their respective views globally — a route that has become even more important as parts of the West have banned Russia's state media outlets on air and online.
All state-affiliated information is approved and issued in accordance with government directives in China's top-down government-controlled media ecosystem. The fact that China has opted to follow Russia's lead in purposefully mischaracterizing the war further emphasises Beijing's ties to Moscow, and makes a farce of China's self-proclaimed neutrality in assisting Russia in ending the violence.
Russian assurances that civilian sites will not be targeted despite overwhelming evidence to the contrary, descriptions of Ukrainian soldiers using "Nazi" tactics, and misinformation about the whereabouts of Ukrainian President Volodymyr Zelensky are all stories that have recently been funnelled from Russian sources into China's closed social media ecosphere — where many Western news outlets are blocked — by its state media outlets.
On Monday morning, China's state broadcaster CCTV aired a package in its morning show spotlighting Moscow's false assertion that the United States had supported the development of biological weapons in Ukrainian labs. This inference is used to promote the notion that Ukraine, which Moscow regards as an American puppet state, is the one who threatens Russia, not the other way around.