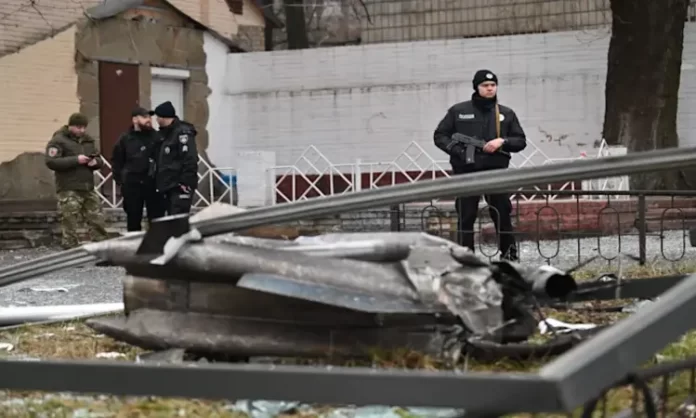 With the whole world watching, Russian President Vladimir Putin launched a massive pre-dawn strike on Ukraine on Thursday, launching an invasion that the US and its allies had been warning about for days.
In the early phases of the assault, it was unclear how severe the damage or casualties were, but Ukrainian authorities stated Russian forces had targeted military installations and other vital defensive structures, as well as targeting border units. Explosions could be heard thudding across Ukraine's cities, including the capital, Kyiv.
President Joe Biden immediately criticized the "unprovoked and unjustifiable strike," vowing that the world will hold Russia and Putin responsible for the aggression, which threatened to cause global unrest and develop into the greatest military confrontation on European territory since World War II ended.
Biden said he will address the country later today to announce further sanctions the US will implement in addition to the ones already in place.
President Vladimir Putin had announced in a televised speech to his audience just minutes before that Russia will start military action in eastern Ukraine.
The Russian president claimed that the strike was necessary to defend people in eastern Ukraine, which the US warned he would use as a pretext for an invasion. He also stated that Russia does not plan to invade Ukraine, but rather will work to "demilitarise" the country and bring those responsible to account.
Estonia, Latvia, and Lithuania, all Baltic republics, have denounced Russia's activity in Ukraine as a "crime against the Ukrainian people."
The foreign ministers of the three nations issued a joint statement strongly condemning "Russia's open large-scale attack against the independent, peaceful, and democratic Ukraine."
"A clear breach of international law, of all international conventions, and a crime against the Ukrainian people that we condemn," they said.
The Russian move, according to Finland's President Sauli Niinisto, is "an attack on the security order in Europe."
In response to Russia's military strike on Ukraine, the European Union says it will examine the "strongest, toughest package" of sanctions it has ever contemplated at an emergency meeting on Thursday.
Russia should remove its soldiers, said European Commission President Ursula von der Leyen on Thursday, adding that Putin would not be allowed to "tear down the security infrastructure that has provided Europe peace and stability for many decades."