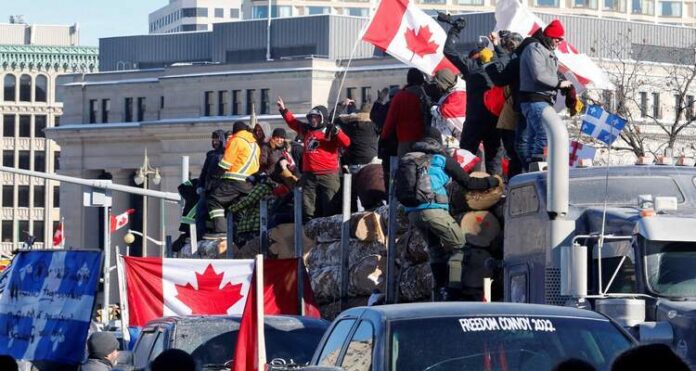 While protesting Canadian truckers continue to block major arteries on the Canada-US border and clog the Canadian capital despite a raid by the Ottawa Police, some provinces have stated they are rescinding their vaccination requirements.
During a Tuesday evening news conference, Alberta Premier Jason Kenney declared that the province's vaccine passport programme will expire at midnight, and that most of the province's health standards would be repealed within three weeks.
"As the illness evolves, so must our approach to COVID," Kenney added. "The limitation exemption scheme has accomplished its goal. It has completed its mission."
Kenney credited his administration's change of heart to high vaccination rates, declining hospital cases, and a continued decline in the spread of the omicron variant, though his province has also made international headlines after a group of obstinate truckers shut down a major border crossing into Montana for more than a week. Alberta has also gotten a lot of press for imprisoning religious members on a regular basis.
Kenney also backed down on the province's kid restrictions, declaring that required mask requirements for children under the age of 12 in all settings, as well as all children in schools, will be repealed. "Given the negligible risk that COVID-19 presents to children's health, it is no longer reasonable to continue to disrupt and limit children's normal lives after two years," the premier stated.
Saskatchewan Premier Scott Moe also announced on Tuesday that his government would begin gradually removing its pandemic public health measures, beginning on Monday with the elimination of the province's vaccination passport program.
Quebec, which had earlier announced intentions to punish unvaccinated people, stated on Tuesday that the majority of the restrictions will be abolished by March 14.
The busiest border crossing in North America was shut down on Monday as Canadian truckers made their way to the Detroit-Windsor border, clogging a major route into Michigan.
Mayor Jim Watson of Ottawa declared a state of emergency on Sunday afternoon as the "Freedom Convoy" of about 500 trucks and cars remained in the streets of the Canadian capital to protest vaccination requirements. The announcement came only hours after the Ottawa Police Department threatened to prosecute anybody bringing gasoline or other supplies to the trucks.