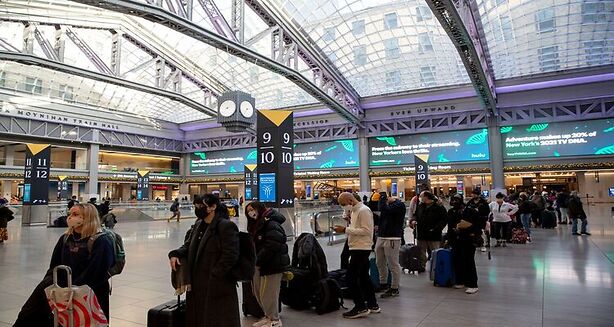 On Monday, a New York State Supreme Court judge overturned the state's public mask mandate, ruling that the governor and top health official are unable to enforce such laws without the state legislature's assent.
Due to the outbreak of the omicron strain of the coronavirus, Gov. Kathy Hochul (D) reenacted the mask requirement in December, forcing people to wear facial coverings in all public locations that do not need vaccination for access. Despite an increase in cases and a stressed medical system, it was slated to expire on Feb. 1 and sparked a heated outcry from politicians and businesspeople.

Nassau County Supreme Court Judge Thomas Rademaker argued in a Monday opinion that the governor and health commissioner did not have the additional authority to order the mask mandate because New York was no longer in a state of emergency at the time it was announced, and that the mandate is now unenforceable.
New York's state legislature enacted a bill in March 2021 that limited the governor's capacity to issue emergency orders.
New York Gov. Kathy Hochul imposed a temporary mask mandate in December, requiring New Yorkers to wear a mask in all indoor public venues until companies enact a vaccination requirement. Dr. Mary Bassett, the state's health commissioner, issued an order confirming the need.
Despite some local authorities' complaints, the measure was prolonged for additional two weeks past the original deadline of January 15. Anyone who disobeyed the mask requirement might face fines of up to $1,000, as well as civil and criminal consequences.
"To be clear, this Court does not intend its decision to cast doubt on the efficacy, need, or requirement of masks as a method or weapon in dealing with terrorism."
Nassau County Executive Bruce Blakeman, who took office earlier this month, issued an executive order that allows school boards in the highly populated Long Island county to decide whether or not to mandate students to wear masks.
In a tweet in response to the verdict, Blakeman remarked, "This is a tremendous win for kids and parents."
With 87 percent of its population at least partially vaccinated, New York placed seventh among states in terms of the number of persons who received at least one shot. According to CDC data analysed by USA TODAY, the national percentage is 75.5 percent. The most widely used vaccinations in the United States are Pfizer and Moderna, which need two doses separated by a few weeks.
New York reported providing another 581,185 vaccination doses in the week ending Sunday, including 173,715 initial doses. The state had sent out 523,202 vaccination doses in the previous week, including 144,133 initial doses. New York said that it had given out 36,261,653 total doses.
Bronx County, with 1,526 cases per 100,000 per week, had the worst weekly outbreaks in New York; Onondaga County had the worst weekly outbreaks on a per-person basis.