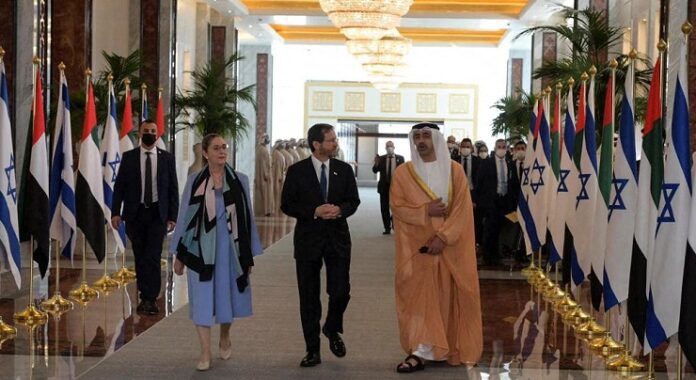 On Monday, the United Arab Emirates announced that it had intercepted a ballistic missile fired by Yemen's Houthi rebels, as the Gulf state welcomed Israel's President Isaac Herzog for the first time.
The missile was intercepted and destroyed, according to the Emirati defence ministry, and its debris fell in an empty region. It was unclear whether the missile was aimed towards Abu Dhabi, the UAE capital, or Dubai, the Middle East's commercial and tourism centre.
Despite the attack, the UAE civil aviation authority said air traffic in the Gulf country was running smoothly and all flight operations were running properly, according to the state news agency (WAM).
In Yemen, the UAE is fighting alongside a Saudi-led coalition against the Iran-aligned Houthis in a seven-year battle that has killed tens of thousands of people and forced the impoverished country to the point of hunger.
Yemen's Houthi military spokesman said on Twitter late Sunday that the group would reveal details of a new military operation deep inside the UAE within hours. He didn't go into any further detail.
After UAE-backed Yemeni militias intervened along frontlines where the Houthis had made breakthroughs last year, the Houthis launched a fatal strike on Abu Dhabi on Jan. 17 and a second unsuccessful missile attack on Monday.
According to the UAE's defence ministry, coalition aeroplanes destroyed missile installations in Yemen.
The public prosecutor of the Gulf state announced last week that several people had been summoned for distributing recordings showing defence systems intercepting a prior missile attack by the Houthis. There were no mentions of the interception on social media.
Herzog met with the UAE's de facto ruler, Prince Sheikh Mohammed bin Zayed Al Nahyan, in Abu Dhabi on Monday to discuss security and bilateral relations.
An Israeli official informed Reuters that Herzog spent the night in Abu Dhabi. Despite the Houthi attack, he will continue his visit to the UAE, according to his office.
The incident was denounced by the United States.
"While Israel's president is in the UAE building bridges and promoting regional stability, the Houthis continue to launch attacks that endanger civilians," State Department spokesman Ned Price said in a tweet.
In 2020, the United Arab Emirates and Bahrain signed the "Abraham Accords," which were mediated by the United States.
Since 2019, the UAE has considerably reduced its military presence in Yemen, but it still holds power through huge local forces that it has built and armed.
The battle in Yemen has gotten much worse in recent months, with the coalition increasing bombings on Yemeni cities and the Houthis increasing cross-border attacks.