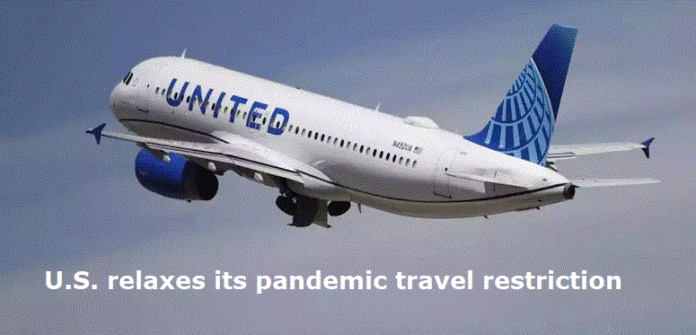 The US lifted a pandemic travel restriction that had been in place for more than a year and a half, providing comfort to the tourist sector as well as families who had been divided by the regulations since the crisis began.
The ban, which was implemented by then-President Donald Trump in early 2020 and subsequently increased by President Joe Biden earlier this year, barred travellers from 33 countries, including the United Kingdom, most of European countries, South Africa, Brazil and China.
Travellers can now travel into the United States with evidence of full Covid-19 vaccination, while there are exceptions for children under the age of 18 and travellers from countries where vaccination is scarce.
Bookings have increased since the Biden administration said it would eliminate the restrictions, according to airline officials.
Beginning in the spring, European countries reduced requirements for overseas tourists, including U.S. citizens. However, despite airline and other travel sector businesses urging the Biden government to reopen borders, US officials did not reciprocate.
United Airlines, Delta Air Lines, and American Airlines all saw their stock rise more than 1% in early trade. These airlines provide the greatest foreign service among US airlines, and therefore stand to gain from the return of domestic travel.
To represent the removal of the travel restrictions, airline employees at London's Heathrow Airport carried American and British flags.
Today's Virgin Atlantic flights to the United States are 98 percent filled, according to a Virgin Atlantic representative. British Airways Flight 1 departed Heathrow with Virgin Atlantic Flight 3 in a coordinated takeoff on parallel runways shortly before 8:30 a.m. GMT towards New York's John F. Kennedy International Airport, a number formerly used for the Concorde. The flight was fully booked, according to British Airways.