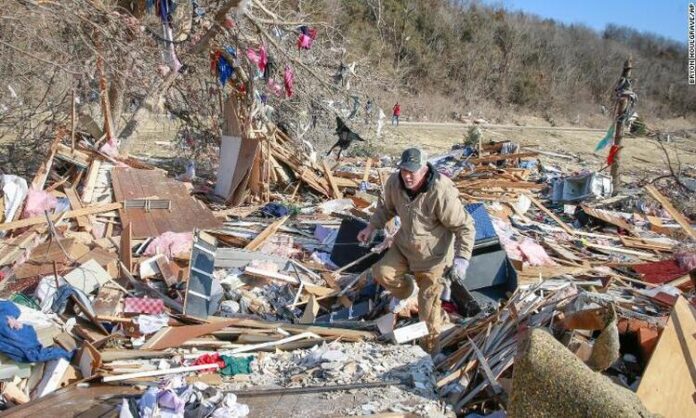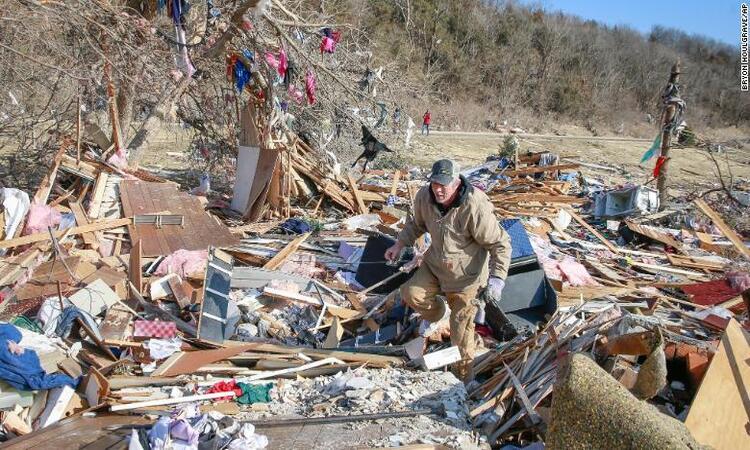 More than 75 million people from Atlanta to Philadelphia were threatened by severe storms on Monday, just days after a horrific tornado outbreak in Iowa killed seven people, including an EF-4 twister.
According to meteorologist Haley Brink, other areas that could witness severe weather include Washington, DC, and Baltimore. The primary hazards include isolated tornadoes and damaging winds.
Monday's storms will bring heavy rain, especially throughout the Ohio River Valley, with rainfall rates of one to two inches per hour possible, she said. Flood warnings have been issued for sections of Kentucky, Ohio, Indiana, and West Virginia, and the area's soil has already been soaked by torrential rains over the last two weeks.
Any extra rain, according to Brink, will exacerbate the current river flooding.
As broad swaths of the country prepare for the possibility of additional severe weather, recovery efforts in Iowa continue, where several tornadoes struck near Des Moines on Saturday, killing seven people, two of whom were children, and destroying scores of homes.
Residents in Madison County, where Emergency Management Director Diogenes Ayala reported six people were killed, may have had less time to prepare and find shelter due to the delayed broadcast of tornado warnings sent by the local National Weather Service.
Ayala revealed at a press briefing in Winterset on Sunday afternoon that the oldest victim was 72 years old and the youngest was two years old. He had previously stated that there were two children under the age of five.
A person was also slain in a rural area near the Lucas County town of Chariton, according to an official.
The National Weather Service upgraded the Winterset tornado to an EF-4 on Monday, with maximum sustained speeds of 170 mph. It lasted more than an hour and a half on the ground, and its journey spanned about 70 kilometres.
It was Iowa's first EF-4 tornado since October 2013, and its path was the second-longest since 1980, trailing only a 117-mile path in southern Iowa on June 7, 1984.
Officials reported that six persons in Madison County were being evaluated for injuries received in the storm. According to Ayala, one adult had life-threatening injuries, while three others were hospitalised in critical condition.
"This is, I believe, the worst anyone has seen in a long time," Ayala said Sunday, describing 52 homes in Madison County that were damaged or destroyed across a 13-mile span.
Late Sunday and early Monday, tornado warnings were issued in Arkansas. Tornado damage and many downed power lines were reported near the Martin Township region, some 70 miles northwest of downtown Little Rock, according to an Arkansas Division of Emergency Management official.
According to the organisation, a family was reported to be stuck in their storm shelter but was later rescued and is safe.
People should avoid the area "while emergency responders and other officials work in the area to clean up and check on residents," according to the Pope County Office of Emergency Management in northwest Arkansas.
According to CNN meteorologist Dave Hennen, there were slightly under 40 tornado reports over the weekend. On Saturday, the majority of the tornadoes were reported in Iowa, with others in Arkansas, Missouri, Wisconsin, and Indiana. Hennen said there were more than 200 reports of severe weather in more than a dozen states, including tornadoes, destructive winds, and hail.