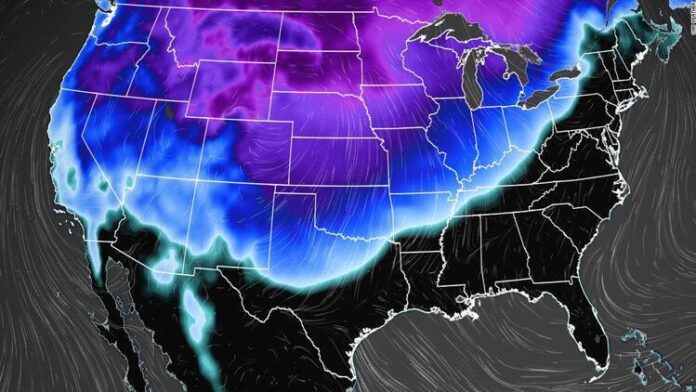 After a pleasant weekend in many parts of the country, Old Man Winter will return as we begin the new workweek.
By Monday morning, temperatures in the northern tier states will be 10 to 20 degrees below average, according to the Weather Prediction Center. And that's only the start. By Tuesday and Wednesday, the temperature will have dropped to 30 to 40 degrees below average as a powerful high pressure system begins to distribute Arctic air further south and east.
Some people, like seen above, prefer to do a polar plunge on their own will. Whether they like it or not, many people will be subjected to freezing weather this week. In a 48-hour period, several cities will see a dramatic polar dip.
Denver's high temperature will drop from the low 60s on Sunday to 15 degrees on Tuesday, with snow showers.
Rapid City, South Dakota, will see temperatures drop from 50 degrees on Sunday to 0 degrees on Tuesday. The temperature in the Black Hills will plummet to 15 degrees below zero by Tuesday night.
Some places may see the dramatic decrease in temperatures even faster, in as little as 24 hours. Monday's maximum temperature in Amarillo, TX will be in the low 70s, but will soon plummet to the mid 30s the next day. Wichita, Kansas' temperature will drop even further, from a high of 70 degrees on Monday to the mid-20s on Tuesday.
More than 70% of Americans in the Lower 48 will see temperatures below freezing throughout the next week. Over 15 million people will be exposed to temperatures below zero.
With the current frigid temperatures, any precipitation going through will result in snowfall across a large area.
Snow will begin to fall over the Upper Midwest, but the slow movement of the cold front will allow for significant snowfall rates across the region. Sleet, showers, and freezing rain will blanket the Great Lakes area by Tuesday, with major ice accumulations probable.
Approximately 6 inches of snow is expected throughout parts of the northern Plains and Midwest through Tuesday, with up to 12 inches possible in certain locations.
Due to very heavy rain on the southern side of the storm, the sluggish passage of the system will be a worry. The rain will be heaviest in the Southeast on Monday and Tuesday. The South will be one of the few places in the country to have above-average temperatures on Monday, which will aid in the development of strong storms.