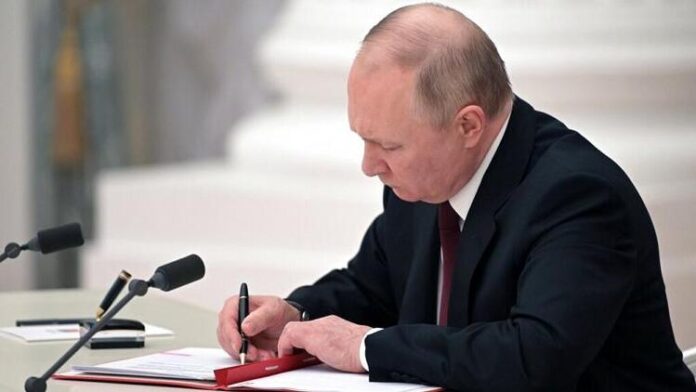 On Monday, Russian President Vladimir Putin sent soldiers into Ukraine, only hours after recognising the independence of two Moscow-backed separatist regions in the country's east.
The decision is likely to be perceived as yet another escalation in the confrontation between Ukraine and Russia, coming on a day when emotions were already high after Putin announced the formal recognition of the two territories and made a lengthy address about the two countries' relationship.
In both places, Putin characterised the troop movement as a "peacekeeping" endeavour. His recognition of both regions was viewed by the United States and its European allies as a major provocation and a justification to attack Ukraine, prompting the United States and the European Union to issue sanctions against both areas.
Many analysts predicted that Moscow's formal recognition would essentially derail a previous cease-fire deal that some Western allies hoped would give a way out of the conflict.
Putin portrayed Ukraine as a historical part of Russia that was illegitimately stolen from Moscow and is now administered by a "puppet regime" controlled by the US and the West in a wide-ranging televised speech Monday evening.
"Ukraine is more than simply a neighbour. They are a part of our way of life "he stated
He cautioned Kyiv, noting that Ukraine had removed several of its Soviet-era statues: "Do you want to be decommunized? We'll demonstrate what it's like."
He then signed a document legally recognising the self-proclaimed Donetsk People's Republic and the Luhansk People's Republic, both of which have been under Russian-backed rebel rule since 2014.
Denis Pushilin and Leonid Pasechnik, the rulers of the Donetsk and Luhansk republics, were present.
Ukraine's President, Volodymyr Zelenskyy, stated unambiguously that Putin's actions violate his country's sovereignty and territorial integrity. He believes it might signal a unilateral departure from the Minsk agreements, which aimed to end the conflict in the Donbas area.
"The Russian Federation's political leadership bears full responsibility for the repercussions of these actions," Zelenskyy said in a speech late Monday.
Later in the speech, Putin declared, "We are not frightened of anything or anybody," referring to Russia's position in Donbas since 2014.
Linda Thomas-Greenfield, the United States' ambassador to the United Nations, spoke out against Putin's conduct at an emergency Security Council meeting late Monday. "He wants to show that by using force, he can make the United Nations a joke," she explained.
"Putin wants the world to go back in time," she continued, "to a time before the United Nations, to a time when empires dominated the world." "Russia believes it is the year 1919. It isn't the case. It is 2022." "Russia has led us to the verge," Barbara Woodward, the United Kingdom's permanent representative to the United Nations, said during the conference. We implore Russia to take a step back."
Late Monday, the US State Department announced that troops in Lviv, western Ukraine, will spend the night in Poland to ensure their safety.